For Business
MEET HEALTH AND SAFETY OBLIGATIONS
Health and Safety issues have long since been paramount to employers. Over the past number of years there is now a strong case for Health and Safety with regard the mental Well –Being of employees as well as the physical. Both issues can pose serious challenges to employers. It is estimated by The Department of Health that up to 18 million working days per year are lost due to obesity-related illness, while the Health and Safety Executive (HSE) calculates that 13.8 million working days were lost to stress, depression or anxiety-related ill health in 2006-07. In an attempt to assist manage this situation, the Government have legislated for it through the 2005 Safety, Health and Welfare Act which states that:
"employers, as far as reasonably possible, will prevent any improper conduct or behaviour likely to put the safety, health and welfare of employees at risk"
There is a strong commercial as well as legislative case for investing in employee well-being. The graph highlights how the "US Fortune 100 Best Companies to Work For" perform better than the Standard and Poor's top 500, consistently over a five year period. © Great Place to Work Institute 2006. www.greatplacetowork.ie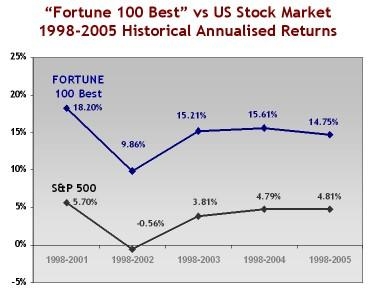 One forward thinking company addressing this issue is the ESB. In addition to their extensive standard health and safety practices, the ESB in conjunction with AFRESH – The Motivational Well Being Company, have rolled out a nationwide program to over 7,000 employees entitled Living Well- Feeling Great. According to Maria Sheerin – Health and Safety Manager:
"The costs of accidents and illness in the Irish workplace according to Indecon, the International and Economic Consultants runs at €3.6 billion per annum. We at the ESB proactively address this not only through our comprehensive and extensive traditional health and safety practices but also through a unique initiative which we provided to our 7,000 employees nationwide called Living Well- Feeling Great. "
Both employees and employer have benefited from the programme which is evident in the fact that the programme is annually updated and is now in its third consecutive year with AFRESH. The programme was developed in conjunction with AFRESH to assist employees improve both their mental and physical well-being. The objective of the programme was to encourage employees to make healthier lifestyle choices in terms of how they spend their time and what they eat.
"At ESB, we know that if we can encourage employees to eat three well-balanced meals and take as little as 30 minutes exercise a day, then this would be of enormous benefit to the health and general well-being of our entire workforce. In addition to our colleagues embracing a healthier lifestyle, ESB also gains by having a happier, healthier and more motivated workforce with reduced absenteeism". More information on ESB Living Well n Feeling Great Programme.
UK companies are also finding that regardless of the cost to business in terms of compromised performance and absenteeism, litigation is never cheap. In 2005, the Royal Mail in Scotland was hit with a compensation bill in excess of £24,000 for failing to give a postman the opportunity to work elsewhere in the business after his weight went up to 25 stone, preventing him from continuing with his usual job.
AFRESH firmly believe that physical wellness impacts mental wellness and vice versa which in turn impact the health and safety of the workforce. To assist employers not only meet legislative obligations but also benefit from a productive, healthy and well balanced team , AFRESH deploy a four pronged customised solution to meeting health and safety obligations: