Press Releases
ARE YOU PRESENT BUT ABSENT FROM WORK? Health and Safety Times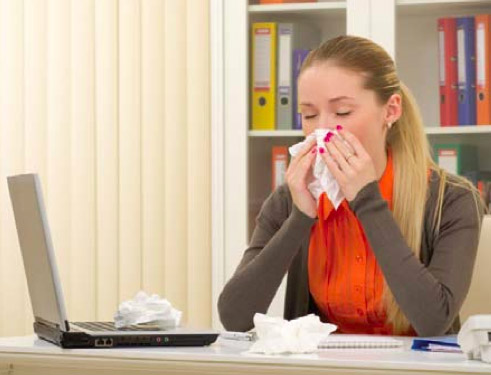 Click on Image to enlarge
Absenteeism is a Costly Business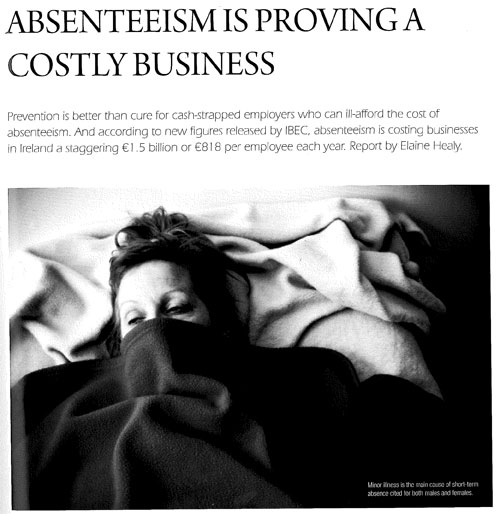 Click on Image to enlarge
Right way to handle redundancy, Sunday Business Post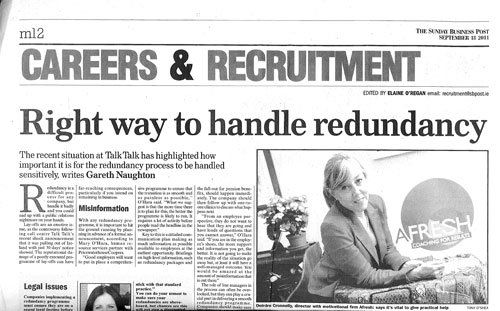 Click on Image to enlarge
Synergising Business with People, Irish Indepenent, 2010
Click on Image to enlarge
Best Places to Work in Ireland 2010 Awards, Sunday Iindepenent, 2010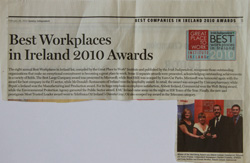 Click on Image to enlarge
Personal Finance, 2010
Click on Image to enlarge
The Star, Saturday, 1 November 2008


CIPD People Focus Summer 08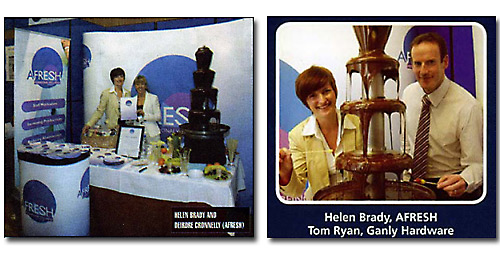 People Focus CIPD Magazine Spring 2008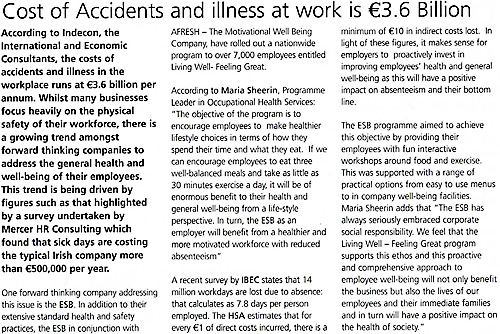 Irish Times Tuesday 12th feb 2008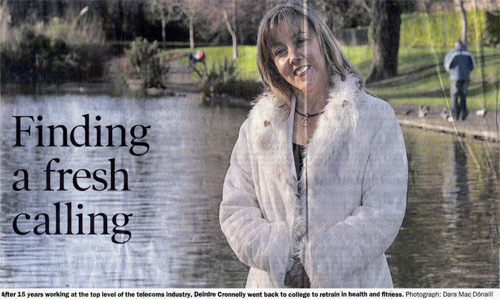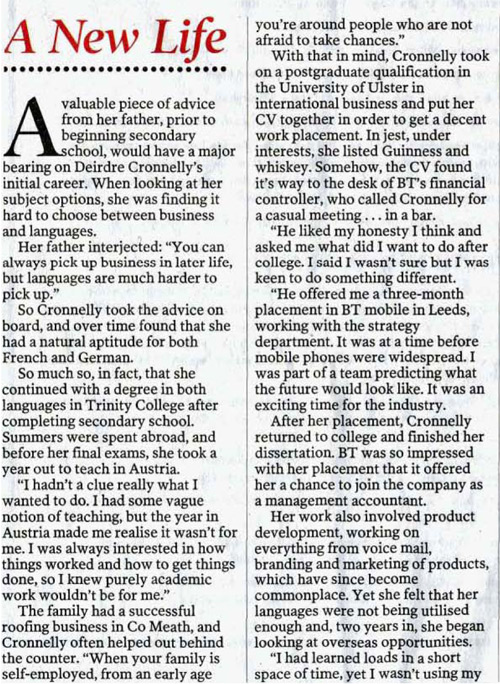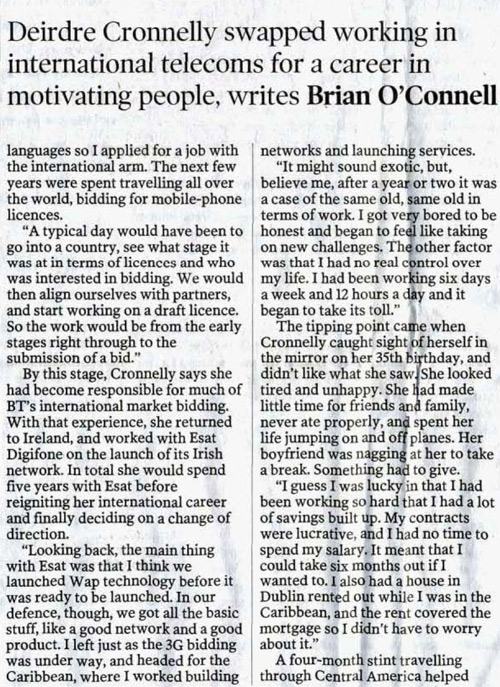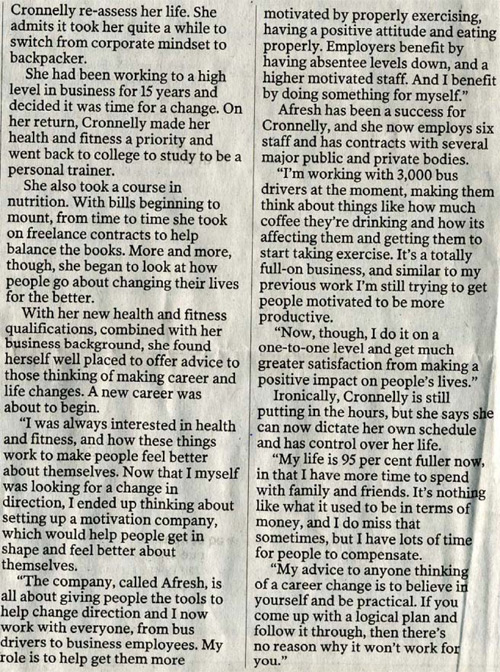 Irish Times Weekend Magazine 2007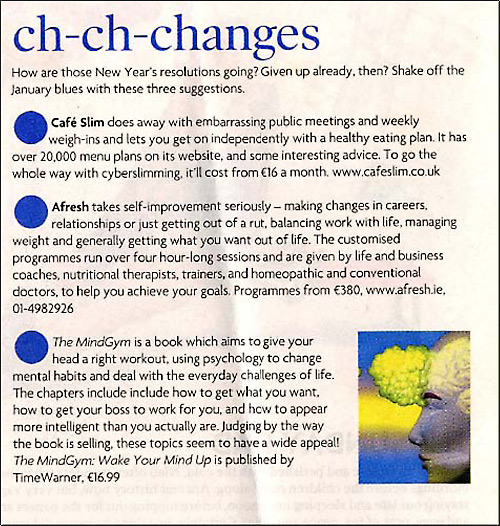 General Notice - 22nd October 2006
COSTS OF ACCIDENTS AND ILLNESS AT WORK IS 3.6 BILLION
The National Health and Safety week which runs from the 23rd to 27th October, aims to address the costs of accidents and illness in the workplace which according to Indecon, the International and Economic Consultants runs at €3.6 billion per annum. Whilst many businesses focus heavily on the physical safety of their workforce, there is a growing trend amongst forward thinking companies to address the general health and well-being of their employees. This trend is being driven by figures such as that highlighted by a recent survey undertaken by Mercer HR Consulting which found that sick days are costing the typical Irish company more than €500,000 per year
One forward thinking company addressing this issue is the ESB. In addition to their extensive standard health and safety practices, the ESB in conjunction with AFRESH – The Well Being Company, have rolled out a nationwide program to over 7,000 employees entitled Living Well- Feeling Great
According to Maria Sheerin, Programme Leader in Occupational Health Services: "The objective of the program is to encourage employees to make healthier lifestyle choices in terms of how they spend their time and what they eat. If we can encourage employees to eat three well-balanced meals and take as little as 30 minutes exercise a day, it will be of enormous benefit to their health and general well-being from a life-style perspective. In turn, the ESB as an employer will benefit from a healthier and more motivated workforce with reduced absenteeism"
A recent survey by IBEC states that 14 million workdays are lost due to absence: that calculates as 7.8 days per person employed. The HSA estimates that for every €1 of direct costs incurred, there is a minimum of €10 in indirect costs lost. In light of these figures, it makes sense that forward thinking employers are proactively investing in improving employees' health and general well-being as this will have a positive impact on absenteeism and their bottom line.
According to Deirdre Cronnelly, Director of AFRESH; "Many of us know what to do but actually doing it is the challenge. To assist individuals overcome common obstacles such as lack of time or motivation, AFRESH customize programs to equip employees with the tools and techniques to move from inaction to action. After an AFRESH program, individuals will have decided on at least one thing they are going to do to improve their well-being. It might be as simple as getting off the bus a stop earlier to taking up pole dancing or just having a brown bread sandwich once week. It's all about small changes which individuals enjoy and can easily adapt as part of their life-style."
Maria Sheerin adds that "The ESB has always seriously embraced corporate social responsibility. We feel that our Living Well – Feeling Great program supports this ethos and this proactive and comprehensive approach to employee well-being will not only benefit the business but also the lives of our employees and their immediate families and in turn will have a positive impact on the health of society."
The Irish Times - 29th January 2005
"AFRESH takes self improvement seriously – making changes in careers, relationships or just getting out of a rut, balancing work with life, managing weight and getting what you want out of life. The customised programmes are given by life and business coaches, nutritional therapists and personal trainers to help you achieve your goals."
Business and Finance - 27th January 2005
"AFRESH is a "well being" company. Aimed at "helping individuals and companies achieve their goals, on both a personal and professional level", it provides workshops to companies to help them enhance productivity. This comes about through a number of different programmes aimed at encouraging employees to adopt a healthier way of life."